Freightliner has built a reputation across the United States for remaining future-focused, with always advancing new technologies and leading the industry through innovation. Freightliner has a continued emphasis on quality through innovation which leads them to the top of the competition.
The Cleveland, North Carolina manufactured tractors are known for five contributing factors that maximize profitability: connectivity, safety, fuel efficiency, quality and uptime. With these things backing drivers, the real cost of ownership is lowered, giving your business the competitive advantage.
When a Freightliner rolls off the production line, drivers can be confident that they are getting a truck that has been manufactured to perform for years to come. Among the line, Freightliner Cascadias, Freightliner Columbias and Freightliner Coronados have all shown that they stand among the best in the business with their dependability.
Taylor & Martin consigns a variety of Freightliners.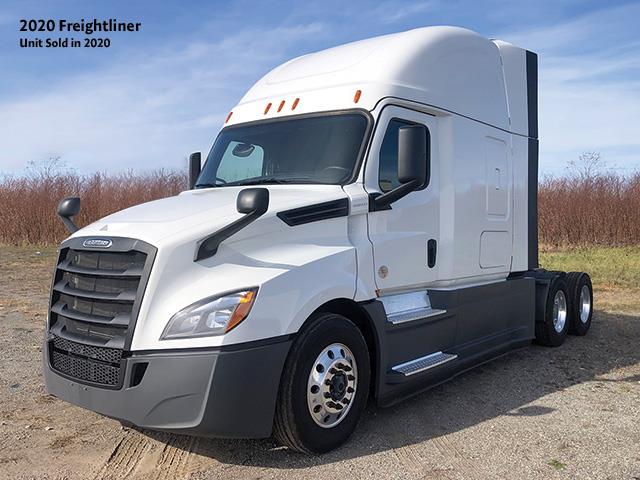 What real Taylor & Martin customers have to say about our services
I would recommend that anyone in the truck and trailer industry needing auction services anywhere in the nation contact Taylor & Martin - they have to be number one! As I made a life changing decision to sell nearly 70 pieces of equipment in one auction in South Sioux City, NE, January of 2020, I contacted Taylor & Martin and every step of the process was handled with outstanding professionalism.
From the appraisal given to me by my sales representative, to the lining up, cleaning, and presenting of the equipment at the auction site, to the auctioneers on auction day - everything was right on - they knew the values and every step necessary along the way to get the best auction prices for my equipment.
Vaughn Beed
Beed Transportation
Without hesitation and with 100% confidence, I recommend Taylor & Martin, Inc. to everyone who has a truck or trailer to sell. I was in awe of the professionalism and organization of Taylor & Martin and how the sale was conducted. I am still amazed how easy you made this for me.
Tom Frasher
Vice President of Special Assets, The Bank of Missouri
I want to take time to thank you and all Taylor & Martin for the excellent results from your auctions. This has been a true partnership. We've been doing business with Taylor & Martin since the early 70's, and I don't believe we've missed a year in all that time that we haven't had tractors, trucks or trailers in a TM auction. We estimate that we have bought and sold several thousand units over the past 40 plus years.
Your services go well beyond auction day.We can count on TM for advice, market estimates and truck valuations; but above all, and throughout all the years, we have been able to count on the integrity of all TM associates, past and present.
Stephen A. Lawrence
CEO & President, Lawrence Transportation Services
I would highly recommend your company. The results have been very rewarding to our company. When I get ready to complete my trucking career, Taylor & Martin will be the first call I make.
David Varner
Owner, Puryear Trucking Company
Taylor & Martin's most recent employment was outstanding. Your company was able to determine the scope of the sale of over 2,200 pieces of equipment at various locations, advertise, set up main and remote sales locations, handle the title work with equipment lenders, prepare and stage sale items, and conduct a two-day auction — all in THREE weeks.
Taylor & Martin has always met our time-sensitive and sometimes unique requirements professionally and without exception. Your experience in brokering and sales, as well as reliability, has always been an asset to us.
Steven E. Lusty
Managing Member, Valleytown Ventures, LLC
Your team of experienced equipment managers have marshaled, arranged or provided detail preparation services giving our equipment great buyer appeal. The equipment lineup on sale day is quite a sight! Every truck and trailer parked so precisely and looking sharp. Your Administrative, Finance and Title experts have conducted all transactions in a professional and timely manner. Taylor & Martin's database and extensive advertising brought the buyers to our equipment. Further, your sales staff and auctioneers have shown us their dedication to facilitate the highest possible return on every piece of equipment.
Stephanie Fox
Asset Management Specialist, GE Capital Small Business Finance Corporation
The auction is over, and we are still raving about it! The results were spectacular and far exceeded the very reasonable estimates you had originally given to us. This doesn't happen by accident — it is the result of your hard work and the professionalism that was part of every aspect of our dealings with your company.
Your crew worked so hard to ensure a successful event with mailings, personal contacts, and planning. We were impressed by all you did for the event — brochures, emails, website presence, local advertising, etc., as well as on-site preparation. We made the right choice with Taylor & Martin!
Melvin Lack
President/CEO, Lacks Home Furnishings
Your professional staff, top-notch advertising and excellent auctioneers, returned the highest dollar we could hope for on every one of our units and exceeded our highest expectations. I was completely wowed with the entire experience and would not hesitate to have you represent my company again.
David Wills
Vice President-Logistics, Del Monte Fresh Produce
It is a pleasure doing business with a first-class company, and I am convinced that Taylor & Martin is the best in the business — keep up the good work. We always believe that your auction company brings the best buyers and sellers together.
Jerry Collins
VP Fleet Equipment, Decker Truck Line, Inc.