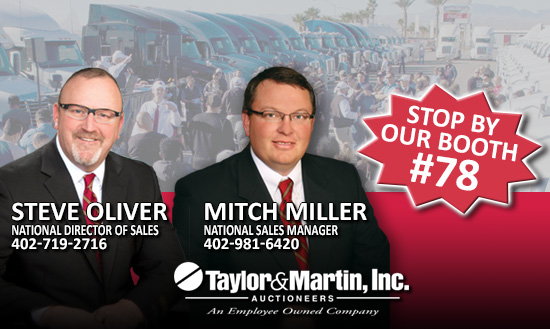 NTDA Convention 2019
One of the fun parts of our job in sales is when we get to go to trade shows to represent Taylor and Martin Auctioneers and meet face to face with other professional people and discuss the state of our industry. Mitch Miller and Steve Oliver will be attending The National Trailer Dealer's Association this year, and we look forward to proudly telling the Taylor and Martin story to current and potential customers.
This is one of our favorite shows to attend, below is a description of the show as provided by the NTDA:
The National Trailer Dealers Association (NTDA) will host its 29th Annual Convention, Oct. 9–11, 2019 at The Breakers in Palm Beach, FL. The NTDA blends world-class educational offerings as well as incredible events that allow for candid networking and the open exchange of ideas, information and strategies for facing the challenges of the trailer industry. Former Black Hawk Down ranger and now award-winning Nashville country singer Keni Thomas, will deliver the Keynote Address and will later be available to sign copies of his book, Get It On! What it Means to Lead the Way. Don't miss this General Session Presentations by Harvard Business School's Senior Professor of Retailing, Rajiv Lal, Ph.D., and by FTR Chairman & CEO Eric Starks. Then, check out new trailer products and services during the Exhibition. All exhibit space is sold out.
The Convention will also feature concurrent sessions on blockchain, talent development, B2B e-commerce opportunities, and a look at how smart trailers will transform the industry. There are also workshops on succession planning and on how our dealer members can prepare for the next big economic downturn. Plus, multiple networking events, including a reception for first-time attendees and event sponsors.