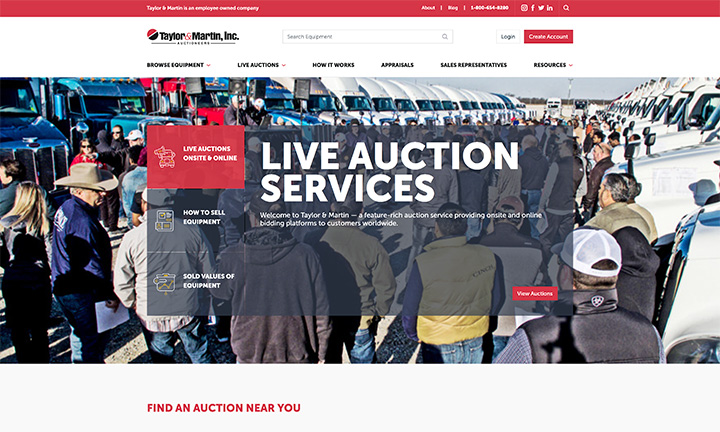 New Year...New Website
We have been working hard on an updated, modern and user friendly website! Not only did we redesign the website, we have merged our TMI Live online bidding platform with www.taylorandmartin.com. That means ONE website - view equipment and bid live online all on www.taylorandmartin.com!
The redesigned website has many great features, including: one website to remember (www.taylorandmartin.com), one account, live online bidding, browse equipment, sign up for past 10 years of equipment values, connect with your sale rep, make travel arrangements and so much more!
To make this easier for you, our customers, we have created some how to videos. Feel free to view some of them below. If you have additional questions, please give us a call 800-654-8280. We hope you love our new website as much as we do!
Signing Into The Website
Don't worry, we have transferred your TMI Live account to the new website. You will be required to RESET your password. Click on the "Login" button and follow the steps for "Forgot Your Password". We will send you an email and you will need to create a new password by clicking the link in the email. Click here to watch a video on how to reset your password.
Creating A New Account
If you are new to www.taylorandmartin.com, it is easy to create an account. With your account, you can bid online during live auctions, place a max bid before auctions, see results from past auctions, select favorites and more! To create an account, click "Create Account" in the top right corner, fill out your information and a verification email will be sent to you. You must verify your account to log on. Click here to watch a video on how to create a new account.