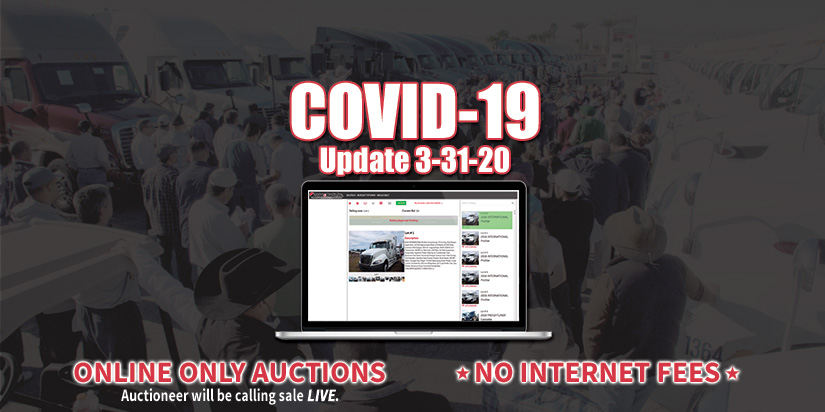 COVID-19: Update March 31, 2020
In an increasingly fluid situation, Taylor & Martin Auctioneers continues to adjust our live auction plan to keep our customers' and employee owners' health and safety the highest priority. Following the latest state and federal recommendations we have done the following:

• Internet fee will be waived on all upcoming sales - Effective Through May, 2020
• All bidding will be online or by phone - no onsite bidding.
• All registrations will be online or by phone.
• Equipment sites will be open for inspection from 7:00 a.m. to 5:00 p.m. starting 7 days prior to the auction. Call ahead to confirm equipment has arrived and equipment sites are open.
• All auctions will be LIVE ONLINE, called by an auctioneer and broadcast from Taylor & Martin's corporate office.
These changes will help to accomplish the primary goal of providing for the health and safety of all and give those who need equipment access to the market. It is important to note that we will allow inspections PRIOR TO SALE DAY, but there will not be any live attendance at sale sites during the auctions. All sites will be staffed with people who can answer questions about specific equipment and you can register to bid online at www.taylorandmartin.com or call the office at (800) 654-8280. Watch for continuing updates on our website, we will keep you posted on any other changes as they arise.