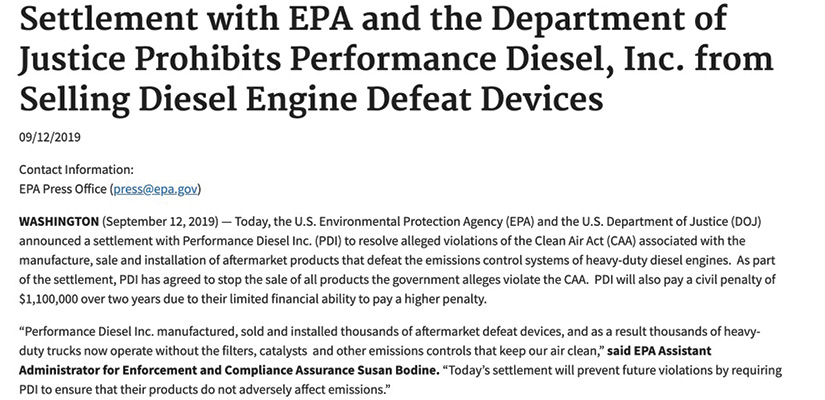 Know the Laws – Emissions Altered Equipment
Cars and trucks account for nearly one-fifth of all U.S. emissions. Cumulatively, they release about 24 pounds of carbon dioxide and other global-warming gases for every gallon of gas. [https://www.ucsusa.org/resources/car-emissions-global-warming#:~:text=Collectively%2C%20cars%20and%20trucks%20account,for%20every%20gallon%20of%20gas].
Because over-the-road vehicles are significant contributors, they are put further into the spotlight. There are numerous firms that sell kits and devices that are "tuners" that enable such emissions standards—which are built into later model engines—to be "defeated" or lifted. Now the EPA is playing hardball with such vendors that produce such equipment and are holding them liable.
Emissions Control
Policy makers at all levels of government are pressing hard to encourage climate change, and the EPA is stepping up emissions enforcement. The Clean Air Act authorizes the EPA to establish emissions standards for many categories of vehicles and engines. Motor vehicle manufacturers develop and incorporate emissions control technologies integral to engines systems and subsequently certify with the EPA to sell them in the United States (EPA-certified motor vehicles).
Such equipment includes:
Software in the electronic control unit (ECU)

governs the fuel flow, ignition timing, and other combustion factors that affect air pollution.

Exhaust gas recirculation (EGR) systems

with internal software, recirculates engine exhaust and reduces nitrogen oxides, which are dangerous pollutants that help form acid rain.

After-treatment systems

treat engine exhaust and filter or condition exhaust gases to deter the release of harmful gases.

Onboard diagnostic (OBD) systems

monitor particulate and emissions, and subsequently notify vehicle operators when corrective action is necessary.
Cracking Down
The Clean Air Act also prohibits tampering with emissions controls and manufacturing, selling, and installing aftermarket devices intended to take down any emissions controls and defeat them. According to the EPA, they successfully resolved 31 civil cases where such equipment was tampered with and set to defeat the emissions controls on vehicles. This was the most for any one year in the agency's history. Note that this refers to all vehicles and many perpetrators are diesel pickup trucks and other vehicles; they are not necessarily Class 8 trucks.
But the topic raises caution and should put truck owners on the defense. A Florida company was made to pay a civil penalty of $850,000 for installing "diesel tuning" devices on trucks. They allow combustion that is more favorable but releases more pollutants.
That company was not the only one. A firm in Utah sold more than 5,549 aftermarket products or "tuners" that "defeat the emissions control systems of heavy-duty diesel engines in violation of the Clean Air Act," according to the EPA. These devices were designed for use with heavy-duty diesel engines manufactured by Caterpillar, Cummins, Detroit Diesel, International and Paccar. The company was fined more than $1 million for this action.
Another Florida web-based distributor of diesel-defeat device products was caught and brought to court for selling and distributing these devices. They were ordered to pay a $7.058 million penalty for 13,928 violations of the aftermarket defeat device prohibition of the Clean Air Act (CAA).
In California, their South Coast Air Quality Management District recently approved $27 million "to a program expected to provide $90 million to replace higher-polluting Class 8 trucks and port drayage trucks with zero-emission vehicles," according to an article in Transport Topics. [https://www.ttnews.com/articles/agency-oks-27m-boost-zero-emission-vehicles-california]
Such funds, as well as other funds used to curtail harmful emissions, came from the Volkswagen Environmental Mitigation Trust program. This program provided funding of $2.8 billion as a result of their fine for Volkswagen's illegal emission-testing-defeat devices in its diesel vehicles.
In this new round of funding, California expects it to be available for heavy trucks such as waste haulers, dump trucks and concrete mixers and applied to engine model years between 1992 to 2012; such vehicles may be scrapped in exchange for a zero-emission replacement vehicle.
Owners: Proceed with Caution
If there's a lesson to be learned from this, it's that the federal government is putting resources towards enforcement and compliance. Any installed equipment that serves to defeat the emissions controls on an engine will be dealt with severely.
It's worthwhile to inquire about any suspect modifications to any engine's emission controls. It's also smart to be aware of any programs that could possibly aid a truck fleet with funding to provide emissions-free engines. This is especially true as automobile manufacturers continue to find sustainable and alternative power sources such as electric vehicles. It's not likely that any truck owner will face the enforcement hand of the EPA. But a best practice in operating a fleet of trucks, be it many or just one, is to proceed with caution and ensure your equipment and engines are in full compliance with the law.
Taylor & Martin shares with prospective buyers if they are made aware that a unit has emission alterations – make sure you know the laws and are prepared to bring unit into compliance when purchasing. All inspections of equipment are the responsibility of the buyer.