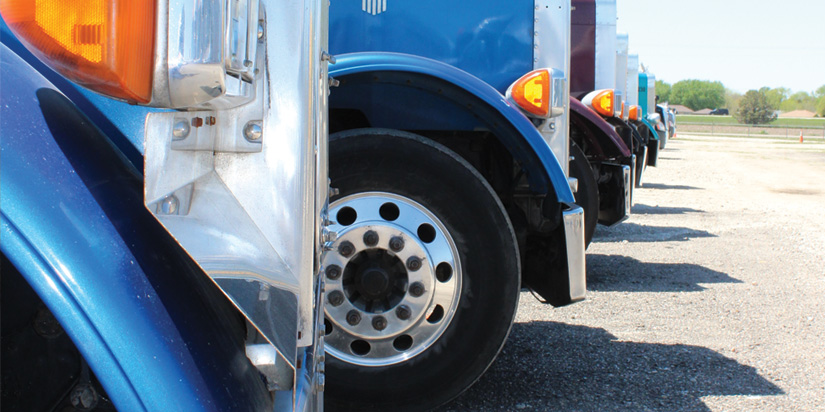 New Products for the Trucking Industry
New products are released all the time in the trucking industry. Some of the products are great for the semis and some are great for the drivers themselves. Here are a couple things that that just hit the market.
Release of the new, lighter wheels and aero covers for semis and trailers
Alcoa invented the aluminum wheel in 1948 and continue to advance the technology that make the truck and trailer wheels lighter and more efficient in the transportation industry. Alcoa announced in March they are rolling out a 22.5" x 8.25" wheel – ULT36x – and the lighter Alcoa 22.5" x 14" widebase wheels, 84U61x and 84U64x.
The new wheels weigh in at 36 pounds, 3 pounds lighter than its previously released wheels. With the lighter weight, the wheels can bring a savings of up to 0.9 gallons of fuel per 1,000 miles – this is when you switch out all your wheels on your tractor and trailer. The wheels feature vHub Bore Technology. vHub Bore reduces the hub-to-wheel contact area by up to 64%. This leaves less surface area for corrosion.
The wheels will be available in high polish and mirror polish finishes and dura-bright and dura-black surface treatment.
Noise canceling Bluetooth earpiece for truck drivers
Poly released the Voyager 5200 Bluetooth earpiece that has many features to appeal to the over-the-road truck driver.
The Voyager 5200 has many features that are impressive but one of the top features is the WindSmart noise-canceling technology. This eliminates the sound of the highway and the background noise in your cab of your semi. The earpiece detects when you are wearing it and directs all call audios to the headset.
When on the road, drivers need to be able to answer calls easily. The incoming calls are announced, and you can answer or ignore the calls by simply saying "answer" or "ignore". Active Siri, Google Now or Cortana by the touch of a button. Talk all you want with the 7 hours of continuous talk time and 9 days of standby battery life.
The Voyager offers a mobile app and desktop software to make changes to your earpiece. The mobile app allows you to locate your lost headset, change languages, update firmware wirelessly, personalize settings and alerts. The desktop software allows you to view the battery level and all of the same features as the mobile app.
Whether you are looking to upgrade your semi with new wheels or needing a new Bluetooth headpiece, Alco and Poly have what you are looking for.
If you are looking to get a new used tractor or trailer, Taylor & Martin can help you! You can view all of our available units here.