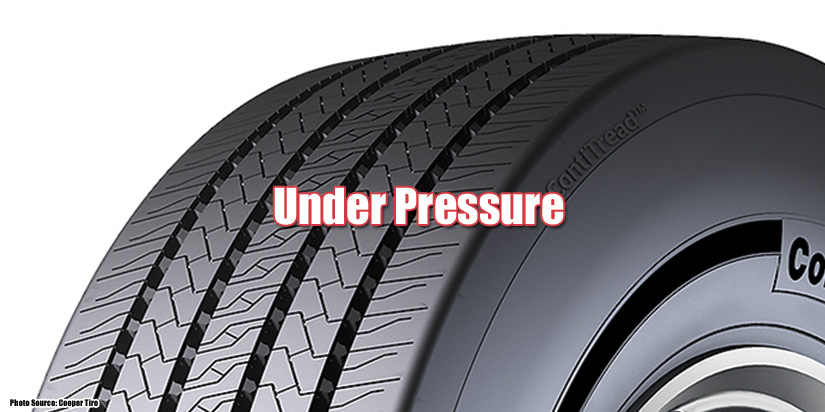 Under Pressure
Truck drivers and owners nowadays are under increasing pressure to deliver goods to market on time and intact. In so doing, they're most concerned about the reliability and the operation of their vehicles. One area of focus is tires.

TPMS and ATIS
With the advent of tire pressure monitoring systems (TPMS) and automatic tire inflation systems (ATIS), they now have new tools and technologies that can help them monitor their tires' performance and influence their maintenance.
These systems provide the drivers and maintenance managers with an ability to act should any parameters such as tire temperature or decrease in pressure become a problem as indicated by the monitoring systems. In a tire pressure monitoring system, they can see indications about slow leaks, or that the tire may be subject to undue wear and is running at a very high temperature.
With ATIS, the system allows for a temporary fix. For example, a tire that's under inflated, or losing air, can possibly be inflated with more air. In fact, a leak may be repaired by the system while the vehicle is in motion. However, it's only a temporary fix until the vehicle and driver can get to a facility where the problem can be more thoroughly inspected and repaired or replaced as required.
Rapid Growth
Tire pressure monitoring systems, in general, are a growth industry. When the firm InMotionGlobal surveyed truck fleet owners and operators, they found that 91 percent of large fleets having 20 or more trucks used tire pressure monitoring systems. For smaller fleets with less than 10 trucks, about a third had some form of tire pressure monitoring system. The smallest was the independent owner operator with only 7 percent of their vehicles having a tire pressure monitoring system installed and utilized.
Tire pressure monitoring systems are indeed an upward trending technology, growing at about 10 percent per year, and we can expect the adoption of such systems to grow even further in the next few years. At present, they're about a $7 million market, which is expected to almost double by 2025.
Vendor Driven
Clearly, numerous vendors are getting on board with tire pressure monitoring systems. However today some are getting more complex; these systems allow the sensors to be more accurate in transmitting information, not only to the driver, but to a remote platform where a maintenance manager or a fleet manager can monitor the state of the tire. A digital dashboard on a computer or via an app on a smart phone may provide such a manager with information about the health of all the tires in a fleet by simply logging into a portal.
Continental Tire is one company that is proactive in developing tire monitoring technology. According to the firm, a tire pressure monitoring system will result in a 15 percent longer tread life on their tires. They also claim that a TPMS will result in a 1 percent increase in fuel efficiency and a 20 percent longer casing life for the tire.
Continental also offers a "yard reader." This is their remote monitoring technology solution that allows a manager to monitor the many tires on many trucks that transit into or out of a cargo yard. With the yard reader, any size fleet can be monitored by a fleet manager, who can remotely know the state of all tires. This is particularly helpful if drivers change from vehicle to vehicle over time. It allows the fleet manager to centrally manage the different characteristics of the tires that are operating locally or long haul.
Tire Management Systems
In addition to Continental, Goodyear and other tire manufacturers are getting on board with more sophisticated systems to monitor and maintain better tires. Goodyear has their own tire management option that offers a complete solution that's customized specifically to the needs of a fleet. It offers a suite of products and services that can enable fleet operators to focus on management and business operations and leave the monitoring of tires to Goodyear.
Specifically, Goodyear tire management systems include other products as well. Goodyear Tire Optics is a digital inspection tool that helps fleets quickly and accurately detect critical tire data, such as pressure, tread depth, and wear conditions. It provides real-time alerts and gives them detailed inspection results remotely.
Another product they offer is Goodyear Checkpoint. In this system, there's a drive-over reader device that provides automated tire inspections for pressure and tread depth. Goodyear also has a TPMS just as Continental does, and actively monitors tire conditions in real time, using unique fleet-specific algorithms. It helps fleets identify critical issues that come up intermittently, such as air leaks and abnormally high temperatures.
A Common Denominator in Fleet Management
What's important to know here is that tires are critical and a common denominator for all fleet owners and their assets. Their adequate performance can greatly affect fuel efficiency, maintenance costs, and most importantly, the overall reliability of the driver and the truck to go from origin to destination, safely and soundly.
In the future, we can expect tire pressure monitoring systems to be more prominent and common among fleet owners and operators, and provide them with a solution that allows them to better operate their fleets and be more effective and efficient overall in their deliveries.