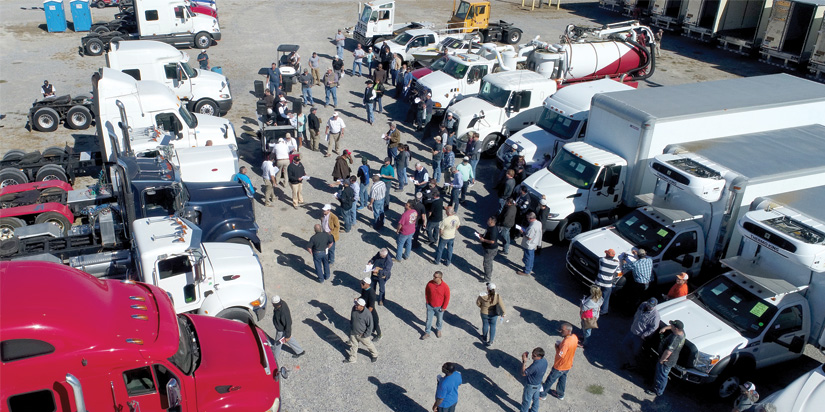 Why should you purchase equipment through an auction service?
As the trucking industry continues to grow and develop into a huge business sector, auction houses such as Taylor & Martin are continually becoming a more and more important part of the trucking industry. At Taylor & Martin, our sales staff is trained to find each customer the perfect fit. When some customers are looking at used Peterbilt semis, Freightliners, or Volvos , other customers are looking for something much broader, such as any make reefer unit that has less than 15,000 hours on it. Whatever each customer's needs may be, our salespeople are trained to inspect equipment thoroughly and find the perfect fit for everyone.
Purchasing through an auction service such as Taylor & Martin means a continually rotating large inventory of consigned equipment from a variety of consignors. This gives buyers different options on a nearly weekly basis, depending on how many auctions are held annually.
Another reason to buy through T&M specifically is the convenience factor. With eleven locations across the continental United States, Taylor & Martin is bound to have auctions near you. When equipment is brought to the auction site, we allow potential customers to view and inspect the equipment themselves. This allows buyers to take as little or as much time as needed so that you can be confident in the items you are bidding on.
One major benefit to purchasing used over-the-road equipment from Taylor & Martin is also that the auction is an absolute public auction and we have recently moved to online and phone bidding only due to the COVID 19 pandemic. This means you can purchase a piece of equipment that has been spec'd and reviewed by trained sales staff, from the comfort of your own home without an internet fee.
Another huge benefit to purchasing used equipment from an auction is the equipment often goes for a fair market value and even sometimes below market value depending on the current supply to demand ratio. This means that when you purchase from an auction company, you are likely getting the best possible deal on the unit if you are able to time the market to the buyer's advantage.
A medida que la industria de camiones sigue creciendo y desarrollándose en un sector empresarial enorme, las casas de subastas como Taylor & Martin se están convirtiendo continuamente en una parte más y más importante de la industria de camiones. En Taylor & Martin, nuestro personal de ventas está capacitado para encontrar a cada cliente el ajuste perfecto. Cuando algunos clientes están mirando Peterbilt usados lost camiónes articulados, Freightliner, o Volvos, otros clientes están buscando algo mucho más amplio, como cualquier unidad de reefer de hacer más que tenga menos de 15,000 horas en él. Sean cuales sean las necesidades de cada cliente, nuestros vendedores están capacitados para inspeccionar el equipo a fondo y encontrar el ajuste perfecto para todos.
La compra a través de un servicio de subasta como Taylor & Martin significa un inventario grande y continuo rotando de equipos consignados de una variedad de consignadores. Esto da a los compradores diferentes opciones casi semanalmente, dependiendo de cuántas subastas se llevan a cabo anualmente.
Otra razón para comprar a través de T&M específicamente es el factor de conveniencia. Con once ubicaciones en todo el territorio continental de los Estados Unidos, Taylor & Martin está obligado a tener subastas cerca de usted. Cuando el equipo es traído al sitio de la subasta, permitimos a clientes potenciales ver e inspeccionar el equipo ellos mismos. Esto permite a los compradores tomar tan poco o tanto tiempo como sea necesario para que usted pueda confiar en los artículos que usted está pujando encendido.
Una ventaja importante a la compra de equipos usados sobre la carretera de Taylor & Martin es también que la subasta es una subasta pública absoluta y recientemente nos hemos trasladado a licitación en línea y por teléfono sólo debido a la pandemia de COVID 19. Esto significa que usted puede comprar un equipo que ha sido inspeccionado por personal de ventas capacitado, desde la comodidad de su propia casa sin una tarifa de Internet.
Otro gran beneficio a la compra de equipos usados de una subasta es el equipo a menudo va para un valor justo de mercado e incluso a veces por debajo del valor de mercado dependiendo de la oferta actual a la relación de demanda. Esto significa que cuando usted compra a una compañía de subastas, es probable que usted esté obteniendo el mejor trato posible en la unidad si usted es capaz del tiempo el mercado a la ventaja del comprador.