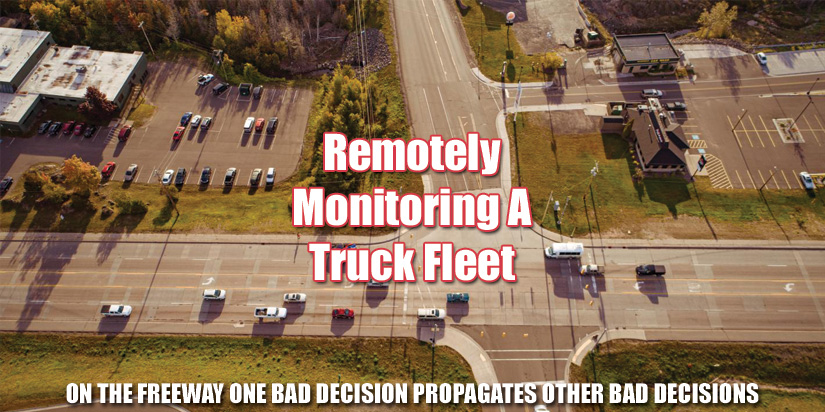 Remotely Monitoring A Truck Fleet
According to research conducted by Research and Markets, truck fleets are migrating to centralized fleet tracking and control. [https://www.businesswire.com/news/home/20200305005356/en/Fleet-Tracking-Market-Insights-and-Outlook-2020-2025---Tankers-and-Container-Vessels-to-Lead-Sea-based-Fleet-Tracking-Market-Through-2025---ResearchAndMarkets.com] The dynamics of one central point of monitor is gaining attention as a viable and attractive way to successfully manage a remote fleet of trucks, dispersed throughout the country on the highways and byways, traversing everything from the heaviest of traffic to windstorms, hurricanes, and other conditions.
According to their research, fleets are migrating to a cloud-based support. They say there is much potential as many small and medium sized fleets are not yet remotely monitored. About 70% of small fleets have no telematics at all.The trend is to incorporate artificial intelligence algorithms that allow fleet operators to benefit from "value-added fleet management services." This includes leveraging known technologies such as GPS. But it also incorporates the Internet of Things (IoT) as well as embedded devices such as sensors. Such devices send a signal, usually wirelessly, via the Internet, to a remote monitoring platform.The remote monitoring can be on the trailer, the container on the trailer, or the truck cab and its engine. The gist of remote monitoring, in the context of a truck fleet is to improve its operational efficiency and insure it's in compliance with imposed regulations. ELD devices are now required and, due to their mandate are already in use.But other parameters such as speed, acceleration, braking, and other detailed performance measures may be recorded and tracked. Fleet operators can instruct drivers about best practices based on such data. They can provide metrics average speed, incidents when brakes were applied and for how long. They can note time and place of engine malfunctions, and drive times. Such data helps the fleet operator to use it to fulfill regulations, but also to build a data log which could be used in a legal scenario or to help substantiate a claim against services or the carriage of goods. Other operational metrics help fleets transport goods economically and safely.
Getting High-Tech with Monitoring and Control
As artificial intelligence and smarter sensors and controls become available, fleets of anything - be they trucks, cars, or robots - may be synced to better operate in tandem. Sounds hard to believe but researchers are exploring this very topic.They are working on a data-driven, optimization-based control model. It operates with, as they call it "a platoon" of automated vehicles that are driven "cooperatively." It allows controllers to be used for better operation, but also for better decisions regarding driving choice and actions. While it may all sound academic, and leaps and bounds forward from our current state of transport and trucking, it does send a signal of the direction that truck fleet management is heading.This is a step ahead of where many fleets are already. Larger fleets with ample financial backing are able to afford remote monitoring equipment, cloud-based software, and all that goes with telematics. But there is often a payback for such investment. Truck fleets may be back fitted with sensors and equipment that enables this type of monitoring and control. Vendors are continuously offering technology packages and products that enable this.For example, Eaton offers its IntelliConnect™ remote diagnostics technology. [https://www.businesswire.com/news/home/20200225005298/en/Eaton-IntelliConnect%E2%84%A2-Remote-Diagnostic-Technology-Receives-Upgrades] The technology is a suite of connected solutions "designed to improve a fleet's uptime and efficiency and reduce the total cost of ownership." It boasts capabilities such as:A fleet transmission health report; a listing of all vehicles with transmission service recommendations; the ability to add and update fleet information by uploading a vehicle information file, negating the need for fleet administrators to manually input vehicle data into a database; a capability to quickly identify vehicles experiencing issues, and a feature that tracks error codes that occurred within the past seven days. Fleet managers can know and track which vehicles those were. This allows them to pay closer attention to them and understand what the root causes may be. It also helps them to make decisions about routing, equipment, road conditions perhaps, and traffic congestion.
The World of Tomorrow
Truck fleets are likely to be managed with more telematics and remote monitoring and control in the future. While it sounds so futuristic, and sometimes detrimental, a fleet that utilizes remote monitoring can benefit the carriage of goods as well as keep trucks operating safely and efficiently. It can also help drivers be more efficient and reduce some of their anxiety in the decisions they make in hauling loads. The best is yet to come.