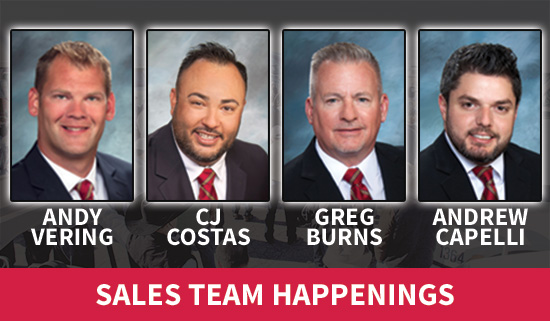 T&M Sales Team Happenings
One of our veteran territory managers, Andy Vering, has been promoted to the Director of Appraisal Services. Andy was an obvious choice for this position, with a history in the Appraisal Department and six years in one of our most important territories as a territory sales manager in Iowa and Missouri. We are very proud to be able to promote one of our own and a home-grown talent to assume this prestigious role. Taylor and Martin Appraisal Services is well known as a top provider to all members of the transportation equipment community and with Andy at the helm they will continue that tradition!

To replace Andy in Iowa and Missouri, CJ Costas was selected to fill this important role. CJ has been the territory sales manager in Arizona and Southern California since 2013. We felt strongly that we needed an experienced T&M person to fill the spot that was left when Andy was promoted, and CJ was a perfect fit. CJ has family in the area and was willing to make the move back to the home office in Fremont, Nebraska to fill this important role. Welcome back to winter in the Midwest CJ!

CJ's move from Arizona to Fremont created an opening for a new Taylor and Martin territory sales manager, Greg Burns. We are excited to have Greg who joined us late in 2019 and has already participated in multiple auctions and spent time meeting new and old customers in Arizona and Southern California. Greg brings years of sales experience with him to Taylor and Martin and we are confident that he will provide our customers the type of service that have come to expect from T&M in Arizona and Southern California.

Lastly, an area of focus and increasing activity for Taylor and Martin in the Mid Atlantic region created an opening for our newest territory sales manager Andrew Capelli. Andrew lives in Virginia and will handle Virginia, Maryland, Delaware and Washington DC. This area will serve our sales sites in Salisbury, NC and Burgettstown, PA. Andrew has years of territory sales experience and worked for a large freight carrier giving him great skills to take care of customers, both old and new, in this newly developed territory.

One thing you can be sure of, there is always something happening with the sales team at Taylor and Martin. We look forward to another successful and productive year in 2020!