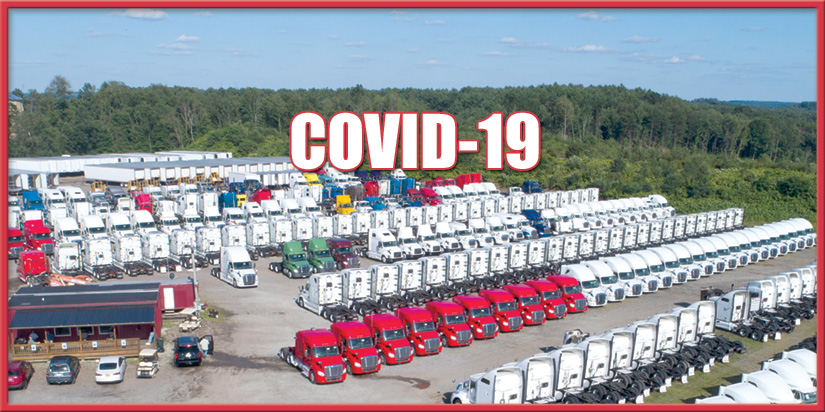 COVID-19: Auction Info
Important Information for Our Customers in Response to COVID-19 - - UPDATED March 3-18-20
Taylor & Martin Auctioneers believes that the health and well-being of our customers and employee owners is the highest priority! We are committed to monitoring the current environment and appropriate government health agencies and acting in the best interest of all Taylor & Martin stakeholders. We believe that we can take a common sense approach with our auctions and continue to provide transportation equipment to the market and a safe environment for our buyers.

Following the latest state and federal guidelines we have done the following:

• All auctions will be selling online only, called LIVE by an auctioneer & conducted remotely until the end of May, 2020

• Bidding Options:
• Online - Register at www.taylorandmartin.com
• Phone Bid - Contact a T&M sales rep for more info.
• Absentee Bid - Contact a T&M sales rep for more info.
• Internet fees will be waived until the end of May, 2020
• All equipment is staged outdoors and is available for inspection 7 days prior to the auction. Equipment locations will be staffed by T&M representatives and open daily from 7:00 A.M. to 5:00 P.M. Bidder registration will NOT be available at our auction locations. Please follow the 10 person limit in office trailer/building.
• Our equipment removal procedures remain the same.
• Updated Auction Schedule:
Thursday, March 26 @ 9:00 a.m. - South Sioux City, Nebraska
Thursday, April 2 @ 9:00 a.m. - Tunica, Mississippi
Tuesday, April 14 @ 9:00 a.m. - Lexington, South Carolina
Thursday, April 16 @ 9:00 a.m. - Lakeland, Florida & Salt Lake City, Utah (Following Lakeland)
Thursday, April 23 @ 9:00 a.m. - Pittsburgh, Pennsylvania
Thursday, April 30 @ 9:00 a.m. - Charlotte, North Carolina
These changes will help to accomplish the primary goal of providing for the health and safety of all and give those who need equipment access to the market. All sites will be staffed with people who can answer questions about specific equipment and you can register to bid online at www.taylorandmartin.com or call the office at 800-654-8280. Watch for continuing updates on our website, we will keep you posted on any other changes as they arise.
Still have questions? Watch our tutorial video series.